Erm…so this happened! We're expecting a baby boy in September! Somewhat of a surprise but I believe everything happens for a reason.
Rewind…
Let me take you back to a previous blog post not so long ago. Our story of an early miscarriage. If you haven't got time to read the full post, here's a quick recap.
In November 2019 we found out we were pregnant, but after only a few days, a doctor confirmed a miscarriage. It was super early but that didn't mean it didn't affect us. We were devastated, after just getting our heads around expecting a baby, straight into being told we'd lost it.
Fast forward to January 2020 when we discovered we'd conceived AGAIN! Much to our amazement – although we're perfectly aware of how babies are made. As my previous post describes, we weren't trying to conceive but we also weren't making much effort to avoid it either. We followed my cycles but this isn't foolproof. Following the miscarriage my cycles weren't as they were, and with it being Christmas and New Year, we weren't really paying much attention. We were enjoying family time, being at home and just generally relaxing after what was an awful year. We'd lost my Dad in the April, so life was a little upside down for a while. If it's of interest, I wrote about my journey through grief here.
That's definitely positive!
The week we found out, I'd not felt good. I even had to leave work early on the Friday as I felt really unwell at lunch. I'd missed breakfast and suddenly felt faint, dizzy and like I could just throw up. REALLY weird! Skipping a meal had never affected me like this before! I spent the next day or so feeling nauseous and 'off', and struggled with the bizarre need to constantly eat just to feel 'well'.
Something wasn't right and I just had an inkling that perhaps I was pregnant again…? Back in November I'd gone for a job in a local prison and found out I was pregnant the day before the interview. The news was a massive distraction and I didn't perform as well as I could have. Needless to say, I didn't get the job. The same job came up in January and I reapplied. We'd joked about it happening again but never thought it actually would!
It did!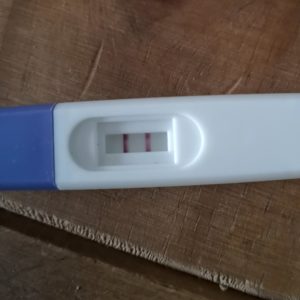 26th January I took the test – a lovely quiet Sunday morning and I had the interview coming up on the Tuesday! What're the chances?! Same job, same situation!
So that Sunday morning, I followed my instincts and took a test. The second my pee hit the stick, it started to show a positive line! I remember looking at it in disbelief, thinking "how could it work THAT quick?!". Unlike last time when we had a faint positive at first, this one was screaming out PREGNANT!!
I took the test into my not-husband and said "Erm, you know how we joked about the same situation happening again? Well…" and gave him the test to see for himself. He was just as surprised as I was! I can't recall the exact conversation as it's all a bit of a blur, but I do remember him being a lot more chilled about it than me.
I was still silently freaking out about having a baby!!
Mixed emotions about a baby…
Now, this blog is my place to be honest. So here it is. I absolutely had mixed feelings knowing I was pregnant again. My first reaction wasn't like you see on TV, I didn't jump for joy, I wasn't excited. In fact I felt the opposite! I think I almost felt dread and disappointment, which sounds awful to say but in that moment, I felt this was completely the wrong timing.
We'd lost our first in November and that gave us a glimpse at a possible future. The life we began to envisage was taken away and it hurt. I like to try and find the positives of any situation and I felt perhaps it was an opportunity to work on myself for a while. I had struggled a lot over the last year or so with "what's my purpose?!". I'd given up my business, cared for my dad who was just 60 when he passed away and I'd just started embarking on a counselling career.
My confidence had taken a nose dive in recent months, I just wasn't 'me' anymore, so after the loss (and all the 'I failed as a woman' thoughts), I felt I should take the time to build myself back up. Hence the initial mixed feelings I experienced. I felt terrible for feeling this way! I thought of women who long to be pregnant! But I was also petrified we'd lose this one too and have to go through it all again. I didn't want anything bad to happen to this little one, which made me feel worse about how I felt. I desperately wanted this pregnancy and baby to be healthy.
Let's just say…I was a bit of a mess inside!
My not-husband was amazing. He was on the "it'll all be fine" bus. Of course he had the same fears as I did after our previous loss but he didn't let me see, he just let me know he was there and that whatever happened we would get through it.
I have to tell someone!
That afternoon I'd arranged to meet my friend (I've mentioned her before…I cried at her wedding in the run up to losing my Dad!) for a coffee and a catch up. I still went and didn't plan on telling her our news. As we caught up, she was asking how I was feeling (emotionally) since the miscarriage. If she'd have asked the day before, I'd have told her how I was feeling better but still consumed by thoughts of why it happened, what life would be like going forward, how I felt about 'children' as a whole.
In my previous posts I've talked about how I've never been the type of person to WANT kids. I didn't feel like being maternal had ever been in my instincts, although I have two stepdaughters (nearly 13 & 15) who I have a great relationship with. My not-husband had always said he didn't want any more children; although, he'd also said, if it happened, it would be a good thing (confusing I know!) so it was never on the cards for us, hence we never REALLY talked about it seriously. My feelings changed after the miscarriage though and I felt like I DID want this (but not yet!)… Just to throw in some extra confusion!
So when my friend asked me that, I couldn't answer. I didn't know anymore! "I've got to tell you because if I don't tell someone, I'm going to go mad!" and proceeded to tell her about the test I'd taken a few hours earlier. She was so excited for us! She jumped out of her chair (7 months pregnant herself by this point!) and gave me a hug. It felt like a huge relief to tell her and talk through my fears. She totally understood and made me feel slightly less crazy. She too was on the "it'll all be fine" bus with my not-husband.
Acceptance
It wasn't until week 11 that I finally felt like I'd accepted what was happening. That this baby was happening and my life was changing! Up until that point I'd had an awful time – I was so unwell I hated being pregnant! (that's a post for another day!) The sickness and headaches lasted up until around 18 weeks which made me feel so rotten! I can't even begin to list all the emotions I went through, I felt everything!
We had a scan at nine weeks due to my anxiety and fear of another miscarriage and luckily all was absolutely fine with baby. I think that helped shift my thoughts after seeing our little tiny human on a screen for the first time. It kind of hit me that day, it was real and not just in my head, but it still all seemed so surreal and I almost felt in denial. I really struggled to connect with this baby inside me and it wasn't easy to admit!
As I write this, we're now at 25 weeks and all is well. It certainly hasn't been easy and I'm sure there's plenty more to come. But for now, baby is healthy, I am nine-tenths human and life isn't looking so gloomy!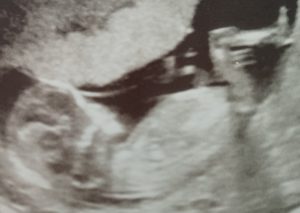 No matter what you're feeling, it's absolutely fine and normal to be experiencing it. Whether you have children or stepchildren already, or you're pregnant, or trying to conceive, or maybe you're totally against ever having children…each decision you make is your own and however you feel about it is okay! Remember to reach out, you might be surprised at how many others feel the same way as you do.
Over and Out,
The Not Wife
X
JOIN ME ON INSTAGRAM – CLICK HERE
Click like and follow our progress