Being pregnant during a global pandemic wasn't the best timing, but here's why it wasn't all bad!
26th January 2020 – I found out I was pregnant. No one in the UK really thought anything of this virus that was taking hold in a little city in China. We had no idea what was about to come our way!
On January 31st, the first two cases in the UK were confirmed.
28th February, the first British death occurred on board the Diamond Princess Cruise Ship, quarantined at the Port of Yokohomo, Japan.
5th March, the first death inside the UK, and the total number of cases stood at just 115.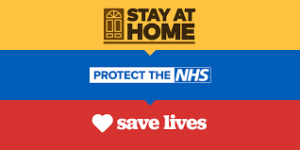 By 23rd March, the entire UK was in a national 'lockdown', being told to 'stay at home'. A global pandemic was well and truly underway. Luckily we'd managed to have our 12-week scan just before, so my not-husband was able to join me in that.
The upside…
Fortunately, we had some beautiful weather in March and April, so staying home wasn't that bad. We're lucky that we have our garden to venture out into. I can't imagine how people who didn't have that mini escapism must have felt!
My not-husband was able to take a little time off during that first lockdown, as the base went down to essential manning only, with crews working week-on, week-off. Like everyone, we thought 'great, let's crack on with house jobs'. In reality, we didn't achieve much at all! I was struggling with sickness and headaches; on top of the usual pregnancy tiredness, so I wasn't much use.
Silver linings to being pregnant in a pandemic…
My day job ceased almost immediately, which I'm actually quite thankful for. I was in no fit state to be visiting people in their homes! At the beginning of March I'd spent several visits trying my hardest not to throw up in clients' bathrooms, which wasn't ideal. As a result, I was secretly loving the opportunity to stay at home!!
Antenatal appointments were going ahead as planned. My midwife did offer a phone appointment, instead of face to face, but I declined. I just couldn't get on board with not seeing a midwife in person. At these appointments, they'd listen to the baby's heartbeat, measure my bump, and take my blood pressure. So I didn't think those things should be skipped – just to be on the safe side.
20 Week Anomoly Scan…
This one was a little different!
By this point, the pandemic was raging, and partners were not allowed into the hospital. Scans can be nerve-wracking at the best of times, never mind going alone! As I have mentioned before, I experience terrible 'scanxiety': often vomiting before a scan.
I was terrified of bad news! Convinced they'd tell me something was wrong! 'How do you receive that kind of information alone?!'
Thankfully all was well! I was so nervous right up until she'd checked all over and told me the baby was doing great! 'What a relief!'
The other part of this scan, as most will know, is you can often find out the sex of your baby. My not-husband already has 2 girls, so secretly we were both hoping for a boy! We had already decided to find out, but I didn't want to be told without him there.
He was in the car park, nervously waiting for me to return, hoping it was all good news and the baby was healthy! It's a subject for another day, but I feel the mental health of partners who have had to be on the outside throughout pregnancies is something that has been overlooked!
In the scan room, the Sonographer asked if I'd like to know, so I said, "Yes, but would you be able to just write it down and not tell me, please?". She replied, "Sure, I'll type it out on your scan photo and put it in an envelope for you." I thought this was a wonderful way of doing things!
But…
There's me lying there, over-thinking, as usual. 'Shit, I'll hear the number of keystrokes as she types! Don't listen! Don't listen! Distract yourself!'
She told me to look away whilst she checked and then came the keystrokes…
One, two, three, four, five, six!
Awesome! I had no idea if it said boy or girl! I was so happy. She printed it out, popped it into an envelope, and slipped it inside my notes.
The walk back to the car seemed to take forever!!!
Outside…
My not-husband was waiting nervously on a bench. We walked back to the car together, discussing what she'd said health-wise. We got to the car and sat down on the edge of the boot. Neither of us wanted to open the envelope; both convinced it said girl! We talked for a moment. Whatever the result we were happy, we were grateful for this little one, and were over the moon he or she was healthy!
Then came the moment! I opened the envelope and held the photo face down. One, two, three…flip!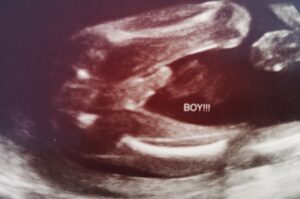 Oh my goodness! There was no mistaking the gender that was for sure! We both sat amazed for a moment. We couldn't believe it said, BOY!!! It was such an emotional moment!
I glanced over at the trees to our left and saw 4 magpies sat in the tree! ("One for sorrow, two for joy, three for a girl, four for a boy!")
'Amazing!' I thought!
A memory that will stay with us forever! Much more so than if my not-husband had been in the scan room and we saw it on the screen together. So I am thankful for the way things were.
Breaking the news…
We had to rely on technology to help us out with this one! WhatsApp video calls were our best friend!
First on the list were our girls (my step-daughters) as we thought it only right they were the first to know. They hadn't been coming to us – despite being allowed – as at that point in the pandemic, it wasn't clear if it was adversely affecting pregnant women or not.
After that, we moved onto parents, then siblings, then the wider family and friends. Yes, it swallowed up most of our evening, but at least there was no traveling involved!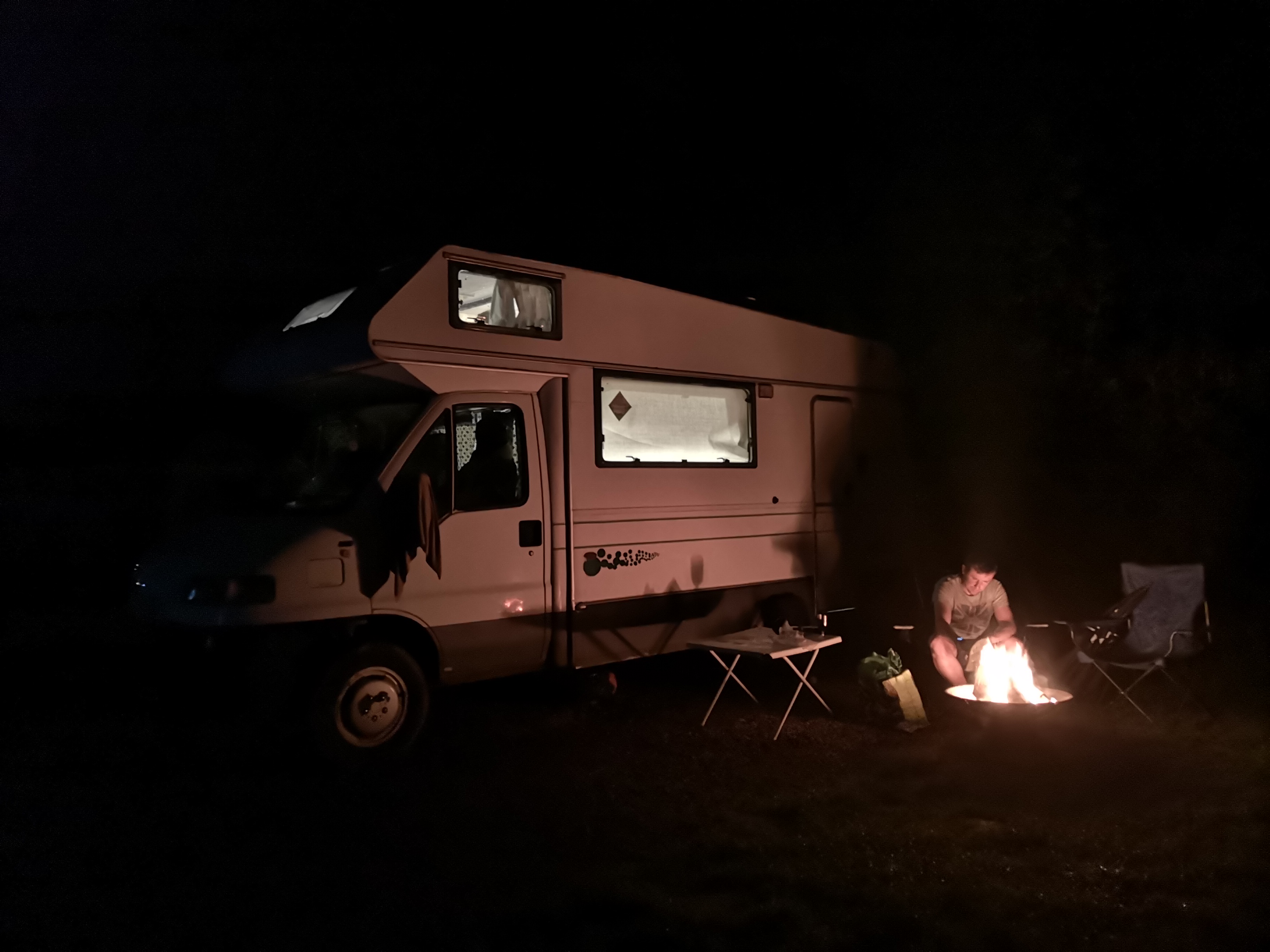 The summer arrived and things opened up a little. We made the dash for a last-minute getaway in our motorhome before our baby arrived. I was 34 weeks pregnant so we chose a destination less than two hours from home – ready to dash back to the hospital if needed! It was only three nights, but that was more than long enough to spend in a van with two teenage girls!
A little treat…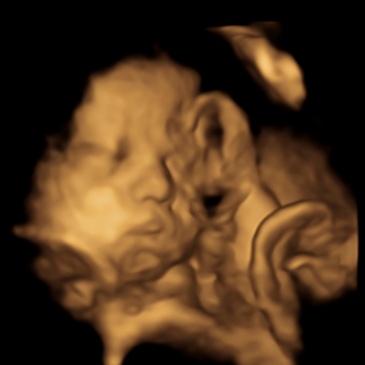 As my not-husband hadn't been able to attend scans or appointments, when he asked me what I wanted for my birthday in July, I suggested getting a private 4D scan as I was 33 weeks pregnant. We were both able to attend and it was all really well carried out.
'Scanxiety' had struck again on the way there, and I was in a pretty bad way, vomiting in the car. It was awful! I wasn't able to enjoy the experience as I should have done, but seeing our baby boy's beautiful little face made it all worth it.
If it hadn't been for the pandemic we wouldn't have booked a 4D scan, so there's another positive.
Nearly there…
Things were going fairly smoothly, then I broke my foot at 36 weeks pregnant. Luckily it wasn't bad and wouldn't affect my labour plans. At 37 weeks, there were issues with the baby's fluid levels. As a result, I had to go in several times for scans and tests, all of which were on my own again due to the pandemic rules.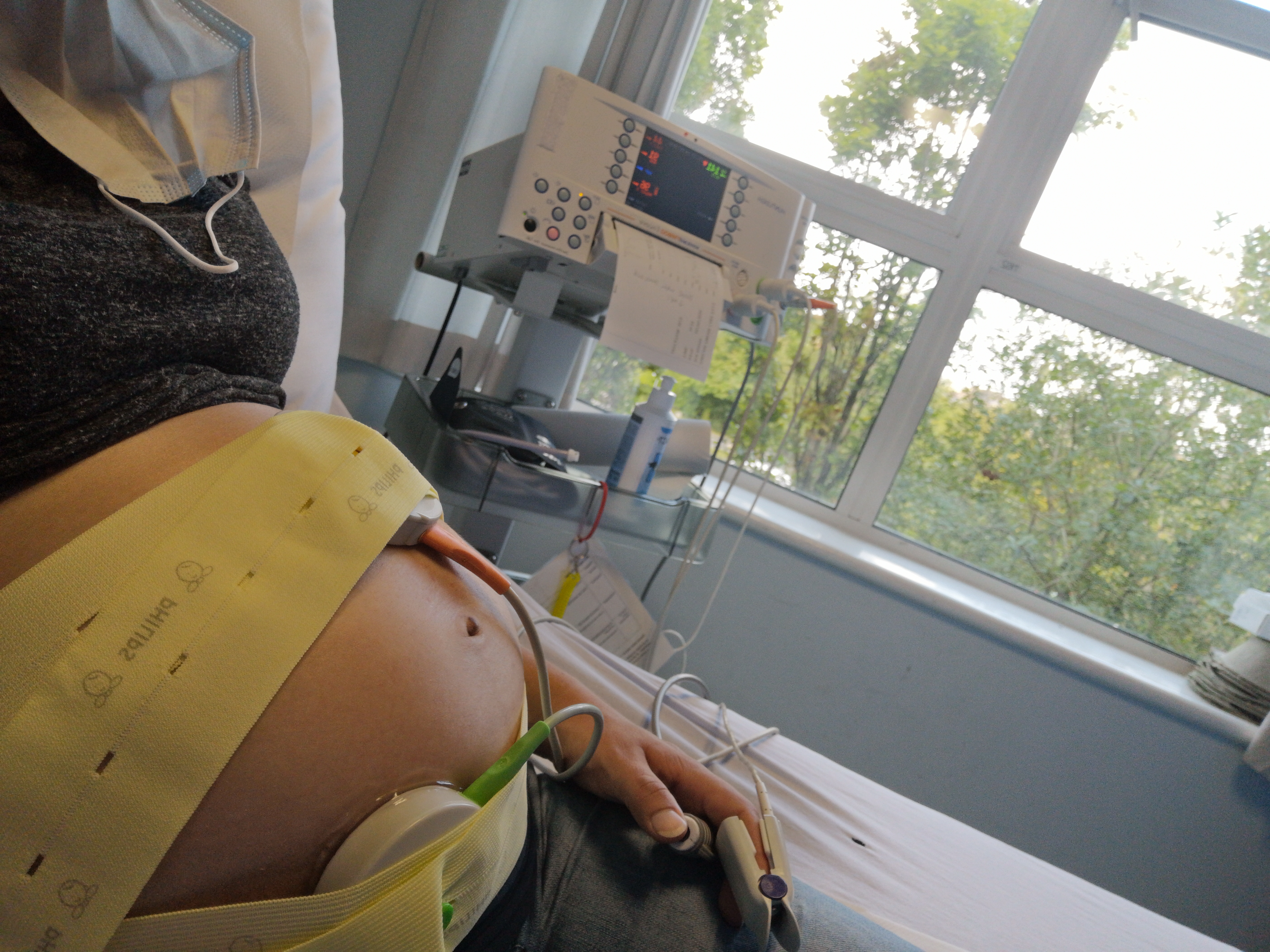 'Scanxiety' hit once again, except this time I had no idea what would happen at each visit. By 39 weeks, they wanted to induce me – and yep, you guessed it – that would be alone, too. Things were very different for the women pregnant in 2020. It truly was a lonely journey!
I'll sign off here or this post will go on forever! I may share my story of birthing during a global pandemic if people would like to read it 🙂
Over and Out,
The Not Wife
X
x JOIN ME ON INSTAGRAM x
Click like and follow our progress